TRUSTED BY 1200+ PROPERTIES
.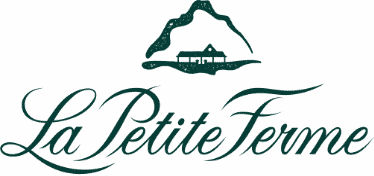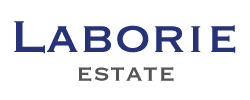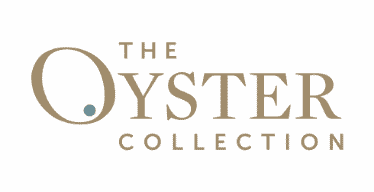 why properties love semper pms
.
Cloud-based PMS version or local/offline installation.

User-friendly and quick to learn.

Suited for medium- to large-sized accommodation establishments.

24/7 Multi-level support.

Dedicated onboarding specialist.
Always have an overview of your operations.

Maximize revenue while enhancing the guest experience.

Automate mundane tasks to focus on what matters.

Improve guest's experiences and boost online ratings.

Leverage our integrated CRM for personalized marketing, enhanced service, and innovative offerings.
everything you need to run your hospitality business
.
Semper Property Management System (PMS) is an all-in-one software system for the hospitality industry, that is easy to use and fully integrated with other modules. It helps properties, ranging from boutique guest houses to large hotels to effectively manage their operations. Our PMS system automates everything from front-office, bookings, accounting information, guest check-in/check-out and other day-to-day operations.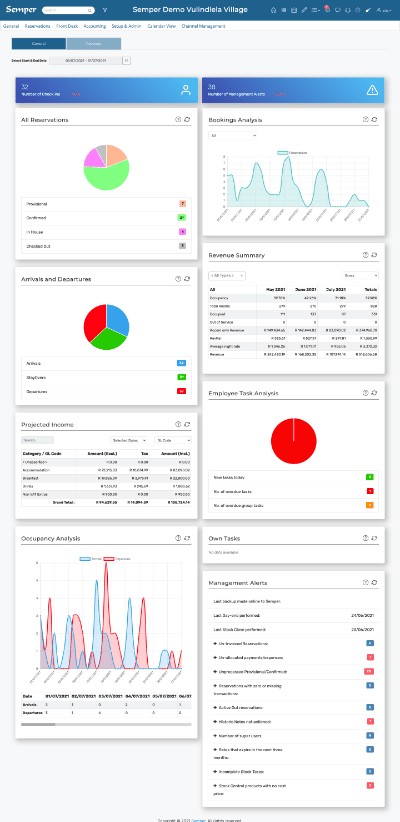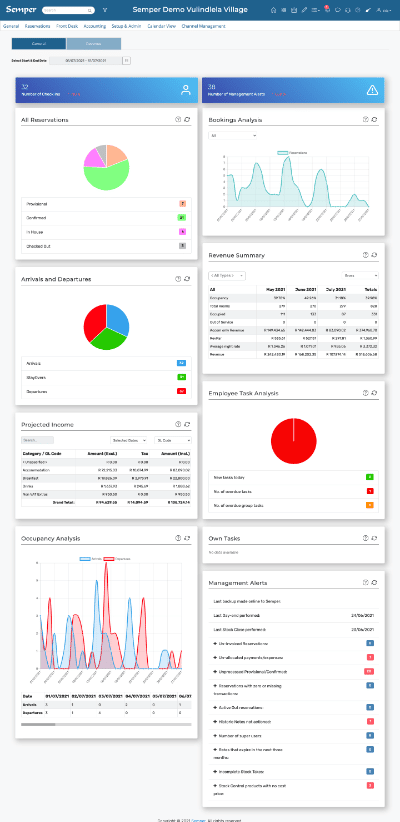 Never miss a beat in your business with our foolproof Property Management System dashboard optimised for your mobile devices and PC. Get access to everything you need to know, like:
Income Analysis
Booking Source
Revenue Summary
Projected Income
Arrivals and Departures
Occupancy Analysis
Employee Task Analysis
Management Alerts
Cashflow analysis
Deposit Analysis
Audit Trail tracking employee activities
Automated Contactless Check-in
Upgrade your hotel's check-in process with our contactless and automated solution, providing your guests with a seamless and safe experience. Eliminate wait times, improve accuracy, and free up staff time to focus on enhancing your guests' stay.
Eliminate check-in queues for guest satisfaction.
Automatically record guest information.
Obtain accurate information.
Save staff time by capturing information automatically.
Up-sell activities and other products to guests before their arrival.
Compliant with POPI and GDPR data protection regulations.
Online Guest Services
Our online guest services module enables your guests to effortlessly manage their stay on any device. With a user-friendly platform that streamlines guest account management and service requests, you can personalize the guest experience while focusing on providing exceptional hospitality.
Guests are able to view account details in detail.
Guests are able to request services quickly and easily.
Order meals and drinks with just a few clicks.
Make secure online payments.
Check-out quickly and conveniently.
e-Guest
Use eGuest to plan an unforgettable experience. Simply use a webpage that can be completed from any device. No need to install an app.
Collect all guest information before they arrive such as dietary requirements, time of arrival, method of travel, traveling party, nationality.
Upsell activities and other products.
Capture guest information such as preferences, interests etc and customise your marketing to their interests.
Pre-plan their entire experience and increase revenue.
Check-out and Payment
No credit card devices needed at your hotel.
Guests can view their invoice online and pay online.
Final invoice will be emailed to the guests.
Guests don't need to stand in the queue, they can drop the key and go.
This streamlined process will make the check-out experience more convenient and efficient for your guests, while also saving you time and resources.
Work smarter, not harder with our PMS automated services function, allowing you to boost productivity within your team. Offer your guests a simple booking process where payment is secure, and communication instant. Watch our video below to see how our automation functions work with bookings, cancellations, confirmations, and payments:
Cut the time it takes to manage reservations with Semper's PMS software. Watch this video to find out more about our Reservations Manager dashboard functionality and how you can:
Book a room using your cell phone while away from your venue.
Receive daily management information.
Use a tablet or PC to operate your system remotely.
In an ever-changing world being able to adapt your rates quickly is key in securing more direct bookings and spending time on guest experiences. Our Rate Management Module supports packages, day-rates, and linked rates (change one and auto update all linked). Watch this video to see just how easy it is to change rates.
Clipboards and checklists are no longer the best way to keep your housekeeping staff and processes in check – our advanced PMS Housekeeping Module enables staff to update things like room status using a cell phone or tablet. Watch this video to find out how this module can streamline your housekeeping system.
Semper offers robust Customer Relationship Management (CRM) capabilities, empowering hoteliers to craft guest profiles and tailor services and marketing endeavors to individual preferences.
Personalized Marketing
Utilize guest profiles to curate focused marketing campaigns resonating with target audiences. For instance, a property might send tailored emails to surf enthusiasts about upcoming surfing events or discounted surfboard rentals.
Enhanced Customer Care
Leverage guest profiles for superior service. For instance, a hotel can recall preferences—favorite room type, dietary needs—enhancing guest experiences and satisfaction.
Innovative Product Expansion
Harness guest profiles for innovative product and service offerings. For instance, discovering high interest in surfing, a hotel can introduce a new, exciting surf lesson program.
Let Semper PMS help you automate your operations and increase your revenue.
Speak to one of our consultants about how Semper PMS can help.
SWITCHING TO SEMPER IS EASY.
Secure data transfer
Trust our seamless transition process to transfer your valuable information to Semper with utmost care and protection.
Fast implementation
Switch to Semper in as little as 2 days to 2 weeks, including comprehensive staff training.
Dedicated consultant
Semper's dedicated Implementations & Onboarding team makes your switch hassle-free and smooth.
Cost-Effective & flexible
No fixed contracts. Once-off set-up fee and low monthly fees. Cancel anytime.
Frequently Asked Questions
.